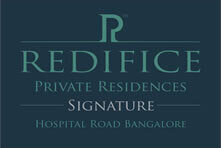 Redifice Signature is located in the Central Business hub of Bangalore District. Central Bangalore region is perceived to encompass several municipal boundaries which include technology parks, corporate offices, super speciality hospitals, restaurants, malls and shopping complexes. It is a cosmopolitan, vibrant city with well developed infrastructure and is much sought after for business and residential location. Redifice Signature is located at the core of Central Bangalore, where liveliness exists and all amenities are at a stones throw.
The prime importance is the accessibility factor, by which you could easily reach Koramangala, Jayanagar, Outer Ring Road, and the Devanahalli International Airport.
The brilliant architecture gives one, ample interior open space with large wide windows that help sunlight suffuse ones office with warmth and glow.
The latest construction technologies will ensure that Redifice Signature provides all its occupants a state of the art working environment.
Availability for Rent
Third Floor – 931 Sq.ft